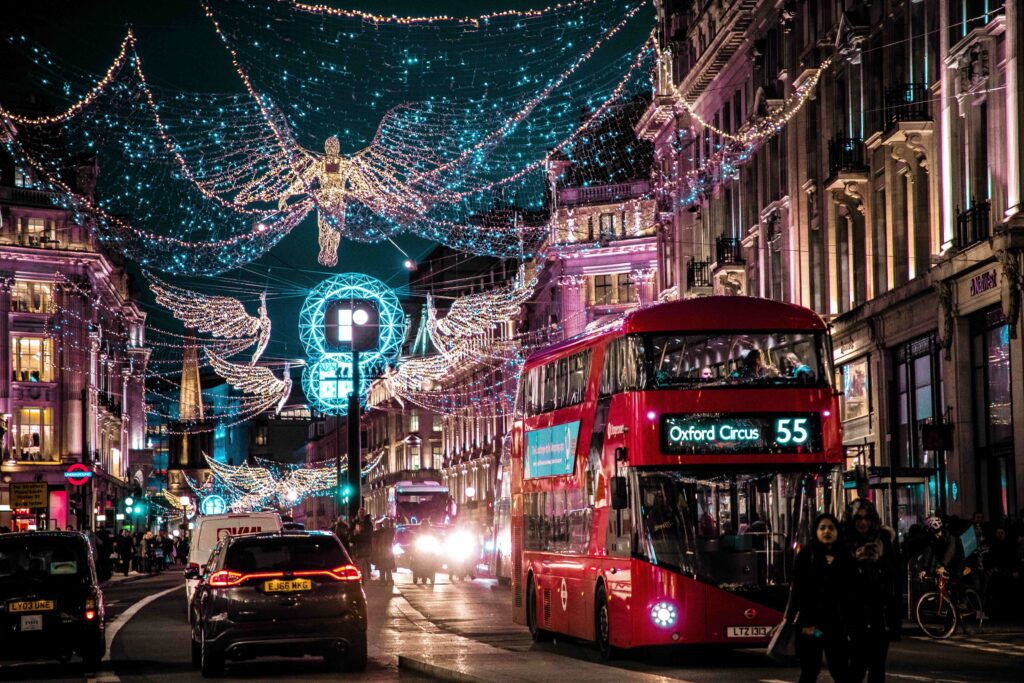 Christmas in Paris, London or Rome is a magical season, with so many fantastic things to do to celebrate. Sparkling decorations light up the cities, hot mulled wine and roasting chestnuts warm you as you browse through the Christmas markets, and Yule Log cakes, Christmas Pudding or Panettone fill the windows of every patisserie you pass by.
But there are always two questions that pop to mind every time Christmas season nears:
– What can I do with my kids?
– Are there any guided tours or activities we could do together at that particular time of the year?
The good news is that there are plenty of things to do in these 3 cities with kids around Christmas time. Read on to discover how to spend the best Christmas time in Paris, London or Rome with children.
OUR FAVORITE EXPERIENCES DURING THE CHRISTMAS SEASON IN PARIS AND ITS SURROUNDING REGION
Christmas in Paris and its region can be truly magical. From mid-November onwards, Paris, the City of Lights, is transformed into a wintry landscape: dazzling lights twinkling constantly, whimsical decorations in department store windows, a dozen Christmas markets, ice rinks and much more. You won't know what to choose, so we've put together a wish list for you.
Show at the Cirque d'Hiver
The Cirque d'Hiver was inaugurated by the newly crowned Napoleon III in December 1852. Its sponsor, Louis Dejean entrusted its construction to Jacques Hittorf, architect of the Gare du Nord and the Place de la Concorde. In November 1859, Jules Léotard made history by performing a flying trapeze act for the first time in the world, and Cirque d'Hiver became THE world-renowned temple of aerial arts. Every year for the winter season, the Cirque d'Hiver designs a new show. It's a not-to-be-missed event for all ages.
Where in Paris: The Cirque d'Hiver is located 110 rue Amelot, 75011 Paris. Type of experience: Live Show.
Stroll through the covered passages of Paris
A stroll through the covered passages of Paris suddenly gives you the impression of being transported back to the XIXth century. In fact, the passages were created during this period, when streets of Paris were dirty and poorly lit. Apart from its dominating merchant role,Paris's covered Passages became the new favorite strolling of the bourgeois, the place to show up and socialize in its endless cafés, traditional bistros, or small theaters. Today, these passages are a typical Parisian architectural curiosity. The majority of which are located in the Grands Boulevards district, from Passage Verdeau to Galerie Colbert. They are like a trip back in time to the "Belle Époque". These venues are superbly decorated for the Festive season. Our preferred is a visit to Gallerie Vivienne, a must-see.
Where in Paris: We advise you to begin with Galerie Vivienne, 4 rue des Petits Champs, 75002 Paris. The walk lasts 2 hours.
Vaux le Vicomte adorned with fabulous Christmas decorations
André Le Nôtre, gardener of the King, created at Vaux-le-Vicomte the seminal expression of the Jardin à la française, the French aesthetic of formal gardens that swept Europe in the XVIIth century. The strong lines and nobility of the garden design, its changing vistas and hidden charms, and the symphony of fountains… all combine with theatrical majesty to make Vaux-le-Vicomte a masterpiece of the French Formal Gardens. Nicolas Fouquet commissioned the most important artists of his time: the architect Louis Le Vau, the painter Charles Le Brun, and the landscape gardener, André Le Notre, to jointly execute the entire project. The result of this fraternal union was a work of unparalleled harmony and beauty. Louis XIV would then hire the same team to build the Château de Versailles.
Every Christmas season, Vaux-le-Vicomte celebrates the French art of living through refined and sumptuous staging and is adorned with fabulous decorations. There, you will be welcomed by the staff of the Palace, and your private, professional guide will give you a 2-hour private tour, along which you can admire the magnificence of the Palace.
Where: Located 50 kilometers southeast of Paris, the estate can easily be accessed with a car transfer.
We almost forgot to mention it to you! Family Twist Treasure Hunt at the Louvre and Highlights of the Musée d'Orsay tours are also available.
OUR MUST TRY ACTIVITIES IN LONDON DURING CHRISTMAS SEASON
In The Footsteps Of Sherlock Holmes
The stories your guide will tell you about Sherlock Holmes during this private tour will send shivers down your spine but are also a great way to learn more about London and the treasure it hides, as well as to be mesmerized by the Christmas lights. Your family will get a chance to see the outside of St. Bartholomew The Great church, which was built in the XIIth century. To keep the children engaged and entertained throughout the tour, they will be handed out a game booklet designed more or less like a game of Clue, like Cluedo. They will have to open their eyes and ears in order to find who the murderer is!
Where: Meeting point at Saint Paul's Cathedral.Type of experience: Private, 2-hour guided tour.
Borough Market Food Tour
Perfectly decorated during the Christmas season, Borough Market is one of the most famous markets in London.Here, a bewildering gathering of great, passionate producers sell their specialties to both London connoisseurs and curious visitors. After meeting your private food-loving guide, who also happens to be one of the very few handpicked experts approved by Borough Market to run tours, follow her as she takes you to the heart of Borough Market. You will discover how the British prepare Christmas dinner in the purest respect for tradition, such as Christmas Turkey served with redcurrant jelly, mince pies, Christmas Pudding, without forgetting the unmissable Christmas Crackers. The many stops along the way will enable you and your children to taste these local products, and simultaneously take you on a trip through all the culinary specialties of the world. From fresh vegetables and fruits to tasty English cheeses to Indian cuisine, Borough Market has it all.
Where: Meeting point at Rabot 1745, a chocolate restaurant in Borough market. Type of experience: Private, 2-hour guided tour.
Exploring The Tower Of London
Meet your private Blue Badge guide in front of the Tower of London and get ready for a fun-filled tour as they take you to the highlights of this iconic monument of London. For over 900 years, the Tower of London has dominated the city's skyline. Through the centuries, it has served as a fortress, a royal palace, a prison, a jewel house and even a zoo! Other highlights include the memorial on Tower Green, the beautiful Chapel Royal of St. Peter ad Vincula, the famous ravens and raven-masters, Traitor's Gate, and the "Bloody Tower". To make sure your kids have a wonderful moment, our guide will hand out a fun-filled game booklet to each child. From there, you will also be able to discover views of the beautifully decorated river bank and Tower Bridge.
Where: Meeting point at the entrance of the Tower of London. Type of experience: Private, 2-hour guided tour.
Do not forget! Family Twist Mystery At The British Museum and Westminster And Buckingham Palace tours are also available this Christmas Season.
OUR FAVORITES IN ROME FOR CHRISTMAS
During the Christmas season, Rome is transformed into a wonderland. Christmas lights and decorations adorn the streets and piazzas, stores display their finest window décor and churches prepare for one of the biggest celebrations of the year.
Christmas Food Walking Tour
Enjoy a traditional Italian Christmas meal on a gastronomic walking tour, while admiring Rome's spectacular light installations. Enjoy charcuterie, a rich and comforting pasta dish and artisan panettone, a type of Italian sweet bread and fruit cake, all accompanied by fine Italian wines at three selected venues. Experiencing such a festive time of year with a local guide who will share with you what a traditional family-style Italian Christmas meal is like.
Where in Rome: Trastevere, Piazza Farnese, Campo de' Fiori, Piazza Navona. Type of experience: Private, 3-hour walking food tour.
Design Your Mosaic Masterpiece
In a genuine professional mosaic workshop located in downtown Rome, let your family experience this wonderful Italian craft. It all starts with choosing the design or pattern you prefer. Once you are ready, just follow the clear instructions of your private teacher, a professional who restores old Roman mosaics and exceptionally opens her workshop to your family, and learn everything about the ancient art of mosaic-making.
After cutting the tiles, carefully place them on the frame. Watch as the motif starts to appear. Once everything is in place, add the finishing touches before walking out with your own beautiful mosaic creation!
Where in Rome: Meeting point at a private workshop in Rome. Type of experience: Private, 2-hour hands-on activity.
Escape From Castel Sant'Angelo
Castel Sant'Angelo (Castle of the Holy Angel if we were to take the liberty of translating the name of this monument into English) is one of the most iconic monuments of Rome. Originally built as the Mausoleum of Hadrian, one of the 5 most respected Emperors of Ancient Rome, almost 2 thousand years ago, this fortress was used by the Popes, and turned into a prison before becoming the monument it is today.

Meet your private, fully-licensed guide, who will lead you to this fascinating fortress. Discover the Ponte Sant'Angelo (the Sant'Angelo Bridge) as well as the small inner courtyard. You will also hear about the Passetto di Borgo, a small elevated passageway linking the Castel to the Vatican, which played a key role in Dan Brown's Angels & Demons (closed to the public).When you get to the top of the fortress, you will enjoy a beautiful panoramic view of Rome and all its Christmas decorations.
Where in Rome: Meeting point at the entrance of Castel Sant' Angelo. Type of experience: Private, 2-hour guided tour, with skip the line tickets.
The Splendors of Villa d'Este
Villa d'Este is a UNESCO World Heritage Site located in Tivoli, a small town perched in the mountains in the outskirts of Rome. Its location makes it the perfect visit during the Christmas season in Rome, as the view over the city is breathtaking.

Meet your private, fully-licensed guide and let them tell you all about this beautiful 16th century villa, former summer residence of Cardinal d'Este. Follow your guide inside the villa itself, and listen to the fascinating stories about its history, architecture, decoration and furniture. Then, head outside to discover the real beauty of Villa d'Este: the gardens and the countless fountains, all in different shapes and sizes. There is even a musical fountain!
Where in Rome: Meeting point at the entrance of Villa d'Este. Type of experience: Private, 2-hour guided tour, with skip the line tickets.