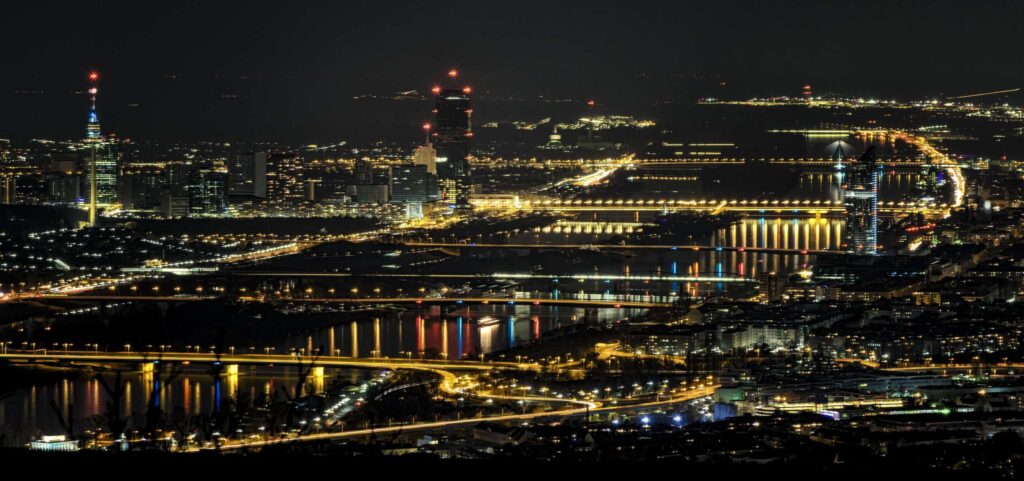 Half of these are about food because, well, it's close to lunchtime in Paris as we write this. Vienna is one of Europe's cultural hotspots, and perhaps its food scene is sliiiiiightly forgotten when faced with the city's musical heritage. Not to worry though, we've got you covered with both the food and cultural fun facts about Vienna that you can share with your children. We'll provide a synopsis: a happy accident, more reasons to eat cake, the fastest way to break your neck (this is less morbid than it sounds, we promise), and a sausage that's been having an identity crisis for, oh you know, a couple of decades. Here are our top 9 kid-friendly fun facts about Vienna:


9. Austria's most famous dish, the wiener schnitzel (breaded and fried veal), is actually the Viennese schnitzel. Wien is the German name for Vienna, and so the Austrian national dish is actually named after Vienna.




8. The iconic French croissant actually originates from Vienna! The flaky and buttery delights are based on an Austrian pastry called kipferl (meaning 'crescent' in German), which were made by Viennese bakers to commemorate the Austrian victory over the Ottoman Turks in 1683. The shape of the pastry was based on the crescents that adorned the uniforms of their enemy, and when Marie Antoinette married King Louis XVI, she introduced her favorite pastry to France. A few changes were made, and the croissant was introduced to the world. You and your children can channel your inner Marie Antoinettes and let them eat pastries instead of cake at our family-friendly and private Make Your Own Viennese Pastry workshop.




7. While it's now probably considered to be a relic of the…90s? 80s? We don't even know at this point. But the point is that Pez (candies in the shape of small tablets, since we haven't seen one since…well, since they enlarged one in Ant–Man and the Wasp) were invented in Vienna in 1927! Pez is actually an abbreviation of "pfefferminz", which is the German word for peppermint (surprise, surprise, the flavor was pretty boring when they first started). The dispenser was invented later in 1949.


6. Snow globes were invented in Vienna in 1900 by Erwin Perzy, a mechanic of fine instruments. He was actually trying to improve the brightness of lightbulbs for a surgical lamp by adding water and semolina flakes when he accidentally invented a snow globe (there have been worse accidents). The world's first snow globe featured the Basilica of Mariazell, but today, there are snow globes featuring everything under the sun (and more!). He and his brother opened Original Vienna Snow Globes in 1905, and it's still snowing today. It is now run by his grandson, Erwin Perzy III, and they have made customized snow globes for a whole slew of celebrities and heads of state.




5. Vienna is home to the oldest Ferris wheel in the world: the Wiener Riesenrad, which was built in 1897 to celebrate Emperor Franz Joseph's 50th year of rule. You can find the 65-meter-tall Ferris wheel at the entrance to the Wurstelprater amusement park. In 1916, a demolition permit was issued for it…but there wasn't enough money to do the actual demolishing part.




4. And we could have danced all night… Sometimes, this is literally what happens. Vienna hosts over 450 balls each year, and the peak season is in January and February. We expected nothing less from the city that basically birthed classical music and actually birthed the waltz. If you travel to Vienna during that season, it is quite common to see people out on the streets getting late-night snacks in ballgowns and tuxes. You and your kids can learn how to waltz yourselves at our family-friendly Introduction to the Waltz activity!




3. You may have heard about the famous Austrian dessert of sachertorte, which is a rich chocolate and apricot torte (definitely a bucket-list dessert) that was invented in Vienna in 1832 by Franz Sacher when he was sixteen (we were probably still trying to figure out how to not accidentally set the kitchen on fire when attempting to cook at that age) for Prince Wenzel von Metternich. But did you know that December 5 is National Sachertorte Day? This is going in our calendars (mainly we just want reasons to eat sachertorte).




2. You probably won't get to see any crown jewels, but you can certainly go visit the world's largest emerald at the Imperial Treasury. At 2,800 carats, it is basically just a giant block of gemstone and sadly cannot be worn (unless you're willing to shell out a lot of money for a chiropractor after permanent neck injury).


1. There's a kind of sausage that's called the 'Frankfurter' in Vienna, and the 'Wiener' ('Viennese') in Frankfurt. That's a heck of an identity crisis. Rumor has it that the sausage was invented by a native Frankfurt butcher when he moved to Vienna, which is…unfortunate for those poor things who are still out there finding themselves and figuring out who they are. We propose the 'Wienfurter'.