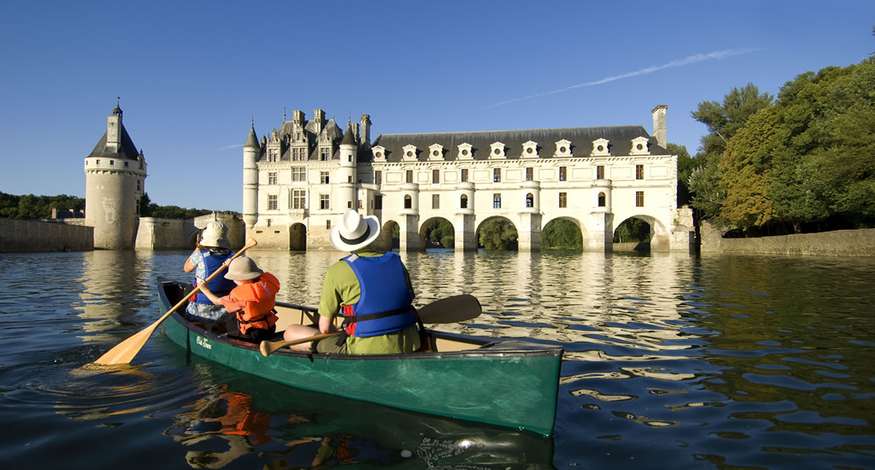 The Loire Valley is undeniably one of France's most beautiful regions, but for most people, it's all about the "chateaux". Yes, those Renaissance or medieval castles are definitely worth visiting, but looking at it from a kid's perspective, things might not sound so attractive!


Remember when you were a child and your parents would take you to some remarkable historical monument? The words "remarkable historical monument" was everything but appealing. It was more of a red flag triggering an all too classic "oh no, not another boring old house visit! What have I done to deserve this?" when traveling with your parents.


Luckily, the Loire Valley has many great things to offer to families traveling with children. And even the Chateaux visits like Chenonceau or Chambord can be really fun-packed and entertaining when done the right way.


The Loire Valley is a pretty extended region. For this reason, we have narrowed it down and have concentrated our efforts on finding really great things to do with kids between the cities of Saumur and Blois. From zoos and aquariums to troglodyte villages and caves, here are 10 great things to do with kids in the Loire Valley.
1. Le Cadre Noir


The little town of Saumur is closely linked to the world of horses. For a long time, it welcomed the French Cavalry Academy, but what it's best known for is the Cadre Noir horsemen, who are considered to be some of the best horsemen in the world. The tricks and skills taught to the horses are absolutely stunning and will surely amaze you and your children.
The Carousel is an equestrian show designed by Cadre Noir. It takes place in July. This annual event attracts thousands of visitors from all over the world. During February through November, it is possible to take guided visits inside the Cadre Noir stables. Your family will be able to watch training sessions (morning only) as well as learn about the fascinating history of this institution.
If you are traveling with children in the Loire Valley, this is a place you surely won't want to miss!
Le Cadre Noir
Location: Avenue de l'école nationale d'équitation, 49411 Saumur
Contact: +33 2 41 53 50 50
Opening Hours: Tuesday through Friday 9AM to 5PM, closed on Saturday and Sunday. Monday open from 2PM to 5PM
Official Website: http://www.cadrenoir.fr/en/index
Online Booking: http://www2.aparteweb.com/awprod/CADRN/AWCatalogSub.aspx?INS=CADRN&CAT=5&SEA=3089&LNG=EN
2. Canoeing / Kayaking and Other Water Activities



The Loire River is the longest river in France, and the best way to enjoy the Loire Valley is to participate in any type of water activity in the region, either on the Loire River or on one of its tributaries, the Cher River (it's a personal dream to belt out I Got You Babe in a double kayak on the Cher River).
After testing several local aquatic adventure companies, we found Canoe Company to be the best when it comes to renting canoes and kayaks and exploring the region through drifting down the rivers.
Both professional and highly experienced when it comes to handling children, Canoe Company will take you on aquatic tours that your whole family will enjoy! How about a relaxing canoe experience downstream while passing under the arches of the beautiful Chateau de Chenonceau? Is there anything more picturesque?
However, if you want a more relaxed trip, you can always sail down the Loire River. Family Twist offers this unique luxurious activity in the Loire Valley; contact us if you're interested!
Canoe Company
Location: 3 Rue de l'Écluse, 37150 Civray-de-Touraine
Contact: +33 6 37 01 89 92
Official Website: http://www.canoe-company.fr/
3. Troglodyte Village



Near the town of Saumur lies a very particular and unique village called Rochemenier.
Why is it so particular?
Simply because all the houses are dug inside the cliffs, like caves. This village is probably the most famous Troglodyte village in France. Some of these troglodyte constructions have been dug out as far back as the 13th century, just like the underground chapel.
The great aspect about these troglodyte dwellings is that it keeps the heat inside during the cold months of winter, and is very cool during the hot summer days.
The odd and curious constructions and the fascinating history behind this troglodyte village will undoubtedly keep your children interested, regardless of their age.
Rochemenier Troglodyte Village
Location: 14 Rue du Musée, 49700 Louresse-Rochemenier
Contact: +33 2 41 59 18 15
Opening Hours: 10am to 5pm everyday except Monday (closed the whole day)
Official Website: http://www.troglodyte.fr/gb-index.html
4. A Bicycle Tour



Another way to enjoy the Loire Valley's beautiful landscape is by going on a bicycle tour. This kind of outdoor activity is highly recommended during the summer season, but the bravest of families can also head out there on a sunny winter day.

A highly recommended agency that does bicycle tours around the Loire Valley is Discover France. Not only are their bicycles comfortable and in perfect working state, they are also used to handling families traveling with children. You'll be able to rent a small bicycle for your children or a special baby/child seat to put behind you on your own bicycle.
Discover France is clearly a local specialist when it comes to bike tours. For outdoor lovers, riding a bicycle through the charming landscape of the region is something the whole family will never forget!


Discover France
Call Toll-Free: +1-800-929-0152
Official Website: http://www.discoverfrance.com/european-tours-destinations/loire-valley-bike-tours
5. Savonnières Grottoes




Where there are cliffs, there are caves… And while most of the caves might not be of interest, there is one cave located next to Tours that is worth visiting, especially when traveling with children.
The caves of Savonnières-Villandry (grottes pétrifiantes de savonnières-villandry) not only have astonishing physical properties, but they also have a highly interesting past. You and your children will be able to enjoy seeing the work of millions of years of erosion, with amazing stalactites and stalagmites.
Towards the end of the visit, reproductions of prehistoric animals have been created, and for the adults, there is a quick wine tasting experience.


Grottes Pétrifiantes
At the entrance of the village Savonnières
Check the opening days and times on the official website.
Guided tours depart every ½ hour and last 1 hour
Official Website: http://www.grottes-savonnieres.com/english/home/
6. A Winery Visit and Wine Tasting Experience



The Loire Valley region is also very famous for its white wine. In other words, you would be missing out on a lot if you don't plan to see a winery in the Loire Valley.
There are many wineries in the region, and we at Family Twist have looked at a lot of them before choosing what we consider as being the best winery in the region for traveling families and creating an activity called Of Grapes and Wine. We have chosen a winery whose approach is not only about the wine itself, but everything that revolves around it, making it very interesting for the children as well. From the soil of the vineyards to the barrels inside the troglodyte winery, this experience is perfect for the whole family.
Needless to say that the wine tasting at the end is a great way to know more about white wine. The children will taste grape or fruit juices and enjoy local snacks.


Of Grapes and Wine is an exclusive Family Twist activity. Book now to get a full and unique Loire Valley winery experience.
7. The Touraine Aquarium



The Grand Aquarium de Touraine is a fascinating aquarium in the Loire Valley. While it might seem strange to have an aquarium somewhere far away from shore, it is a great place for children. The majority of the fish here are fresh water fish, generally found in the area (sturgeons, pikes, pike perches…). They might not be the most beautiful fish you and your children will see in your life, but they are very peculiar and are indigenous to the area.
There are also some tropical fresh water fish (piranhas, eels, and the extremely rare spatulate fish), salt water fish, a shark tunnel, a touch pool and a reptile nursery with lots of small caimans.
A trip to the Grand Aquarium de Touraine, with its 60 tanks and 2 million liters of water, is a highly entertaining activity that your children will adore!


Grand Aquarium de Touraine
Location: Lieu dit les Hauts Boeufs, 37400 Lussault-sur-Loire
Opening Hours: 10:30 AM to 6 PM from Wednesday to Sunday. Open every day in summer.
Official Website: https://www.grandaquariumdetouraine.com/
8. Mini Chateaux



If you are in the region and really think that visiting the great Chateaux of the Loire Valley is too much to handle for your children, then here's a great alternative. Head out to Mini Chateaux, a park were you will find miniature reproductions of 45 major chateaux of the region, including Chambord and Chenonceau.


This area is located right next to the Grand Aquarium de Touraine, so you can even combine a visit to both areas if you like. It should take a full half day to see both areas.


A visit to Mini Chateaux is the best way to introduce your children to the beauty and riches of French architecture and history.

Mini Chateaux
Location: La Ménaudière, 37400 Amboise
Opening Hours: Every day from between April to October, from 10AM to 6PM
Official Website: https://www.parcminichateaux.com/
9. Zoo de Beauval



What better way to entertain your children than bringing them to the zoo?
The Zoo de Beauval has been voted as one of the best zoos in the world. It boasts a white tiger and giant pandas, among other great animals of the wild.
It is easy to spend the whole day at the zoo, as your children will truly enjoy this moment. After all, there is not one child that does not like going to the zoo!


Zoo de Beauval
Location: 41110 Saint-Aignan
Opening Hours: 9AM to 9PM every day
Official Website: https://www.zoobeauval.com/
10. Clos Lucé, the House of a Genius



Le Clos Lucé is a magical place for both parents and children. Not only was it the last residence of 15th century inventor Leonardo Da Vinci, it is also a place where you will get to discover life-size reproductions of some of Da Vinci's inventions.

A visit to the Clos Lucé is best done through Family Twist's Welcome to Da Vinci's World. The private guide will take you in and around Le Clos Lucé and both you and your children will get an interactive experience with some surprisingly modern 15th century inventions!
Welcome to Da Vinci's World is an exclusive Family Twist activity. Book now to make this experience unforgettable.