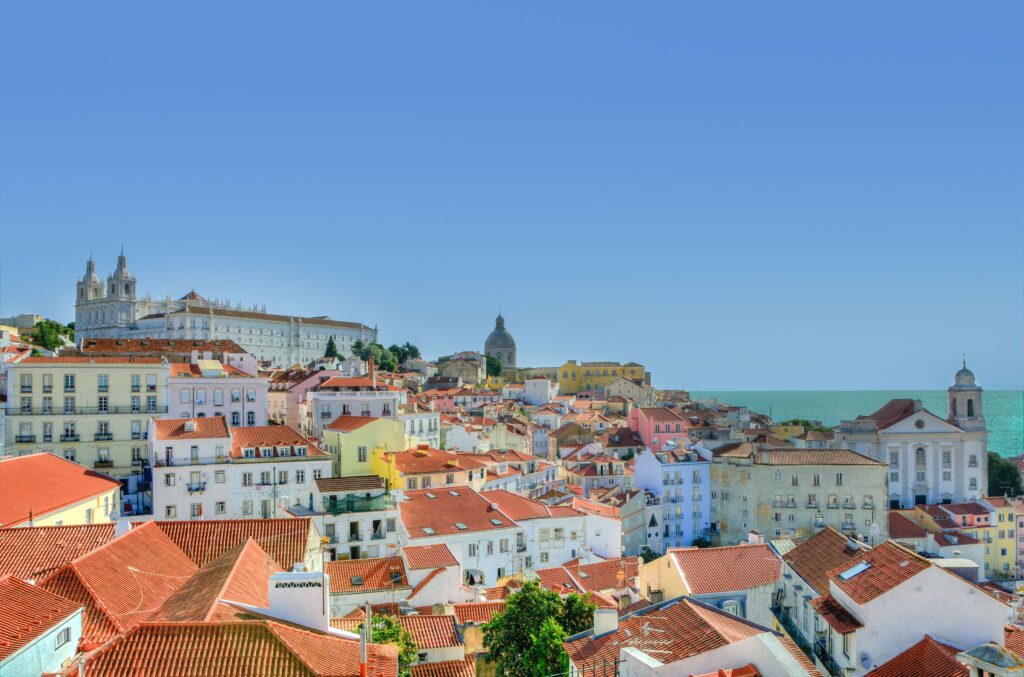 Perhaps the first thing that comes to mind when thinking about Lisbon is the devastating earthquake of 1755 and the famed explorers of Portugal. However, the Lisbon of today is a fairytale-like city bursting with history and vibrant culture, it's no surprise that Lisbon has its fair share of rather amusing fun facts (and holds a couple of amusing world records), so we've rounded up nine of our kid-friendly favorites. As expected, there's a fair amount of food-related facts involved, including what we consider to be a pretty good reason for the people of Lisbon to not eat salad. Spoiler alert: James Bond is also involved, and also the extreme lengths gone to for the beloved dessert of pastéis de nata (because how could we not include what is arguably Portugal's most-beloved dish?). Here are our top 9 favorite kid-friendly fun facts about Lisbon:


9. Edgar Allen Poe would have loved Lisbon. The symbol of Lisbon is a raven, because according to legend, two ravens travelled with the body of Saint Vicente, the patron saint of the city, when his body was shipped to Lisbon in 1173. The two ravens are also featured on Lisbon's official coat of arms.




8. We go to pretty extreme measures for dessert, right? No? Just us? Well, in any case, Portugal's iconic pastéis de nata consists of flaky crust and creamy egg custard filling, and you can find them in basically every pastry shop throughout the country. The sweet tart originates from the 19th century, and the story is that a monk sold the recipe to a bakery in the Belém district of Lisbon after the state closed the monasteries. The family that owns the bakery went on to have one of the most famous bakeries in Lisbon, and apparently, only around five people in the world know the exact recipe, and there is no written version. Even more extreme is that they never travel in the same plane or the same car, and never order the same dish at any restaurant, which is…dedication. You can try the original (and top-secret) version at Pastéis de Belém during our Treasures of Belém tour or try your hand at making your own at our Lisbon Pastry Baking Class!




7. Street art and street graffiti in Lisbon are basically a part of the city at this point. Much of the graffiti that can be found was actually commissioned by city officials to brighten up old, dilapidated walls. Now that's some innovative beautification.




6. Lisbon mayyyyy have inspired James Bond. Yeah, we'll backtrack for a second to explain. During WWII, Portugal maintained its reputation for being neutral, though there was believed to be heavy espionage activity from both the Allied and German sides in their capital. In addition to the spy presence, war refugees and prominent international figures who were exiled from their own countries mingled in Lisbon, and both this and the espionage connection is believed to have inspired author Ian Fleming during his time there as a British Naval Intelligence Officer.


5. You can find the smallest bookstore in the world in Lisbon! Livraria do Simao is less than 35 square feet in size, and apparently when a customer goes in, the owner usually has to step outside (it's that tiny!). However, this tiny space holds an impressive 4,000 books (we imagine stacking them is a real-life game of Tetris). Basically, if you've ever wanted to legitimately be completely surrounded and encompassed by books, this is the place for you.




4. Trams, not coffee. The iconic yellow trams are an institution in Lisbon at this point, but they're not entirely original! Lisbon's city officials drew inspiration from San Francisco in their search for another symbol of Lisbon, and thus the first tramway was launched in 1873, and the trams were (fittingly) called Americanos.


3. Lisbon holds the Guinness World Record for the largest bean stew (feijoada, which is also the national dish of Brazil) ever served, which was served to 15,000 people on a 5km-long table on the Vasco da Gama bridge (the longest bridge in Europe) during its inauguration.




2. Lisbon also holds the Guinness World Record for…the slowest construction of a church…ever. Work started in the 17th century (in 1681) on the Santa Engracia church (now the Panteao Nacional – the National Pantheon), but the final dome was added in 1966. You can blame curses, the earthquake, and y'know, architects dying for that one.




1. Lisbonites (yeah, we just made that up) are nicknamed "little lettuces". Other than being called "Lisboetas" in Portuguese (this nickname is pretty self-explanatory), they're also referred to as "Alfacinhas" ("alface" is the word for lettuce, and "alfacinha" means "little lettuce"). The nickname is believed to have stemmed (see what we did there?) from when residents did not have much to eat other than vegetables, in particular (you guessed it)…lettuce. So…when Lisbonites eat salad, are they committing cannibalism?