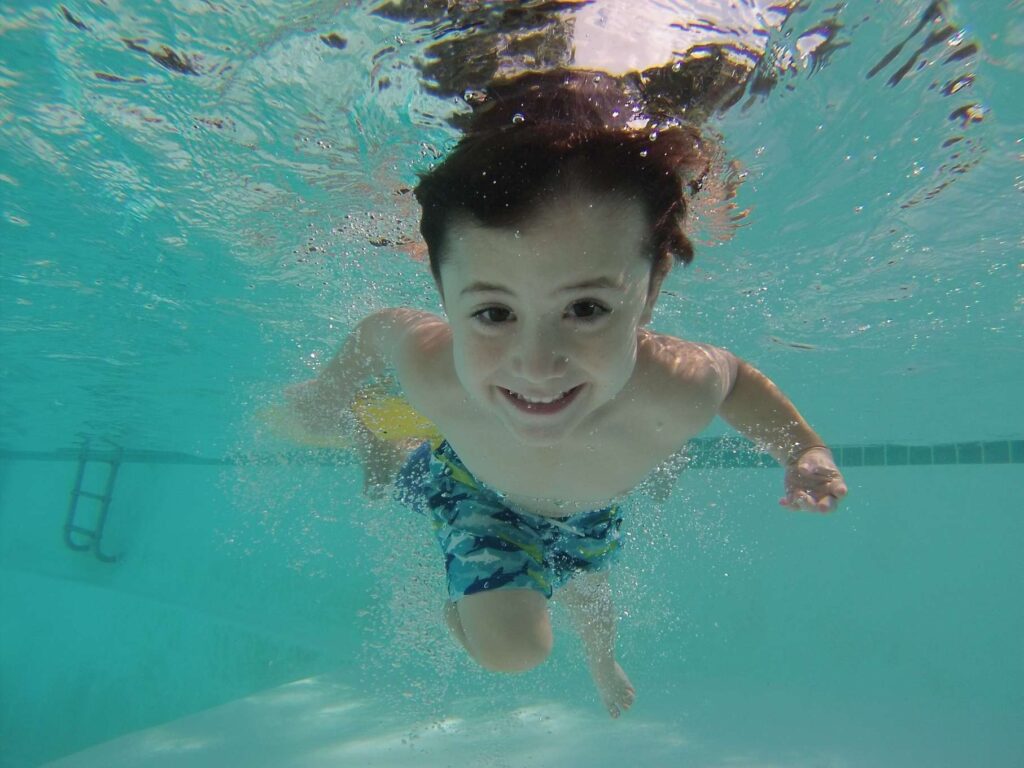 As much as we love to promote the cultural side of London, when traveling to London with kids, it's also very important to take some time to relax and have fun, and what better way to do that than to take a family trip to a swimming pool?


There are many swimming pools and lidos in London open to the public, and quite a lot of them offer not just a swimming experience, but also a more comprehensive approach with swimming lessons and a fitness club. Some of these swimming pools are the perfect place to spend a relaxing and fun time with your whole family as they offer facilities for children.


The 5 biggest and most famous waterparks (Alton Towers Water Park, Splashdown, Blue Lagoon, Sandcastle Waterpark and Waterworld) are nowhere near London and therefore could not be mentioned in our list of pools. However, the following 10 swimming pools are located within the Greater London area and are accessible by public transportation.
Although we have given the opening hours and prices, we strongly suggest getting in touch with the swimming pool of your choice directly before you head out there. There could be events or bank holidays taking place that might change the opening times.


Be it in summer or in winter, take some time off and dive into one of these 10 best kid-friendly swimming pools in London. Contact us should you want us to take care of your family holiday in London with your kids.




Hampton Pool: A Swimming Pool with Summer Concerts




For a truly relaxing and family-friendly day, Hampton Pool has everything your family will need. Located in Hampton's Bushy Park, you will find a 36m outdoor lido (open year-round and heated to 28 degrees Celsius), a shallow learning pool for younger kids and babies, and a lovely grassed area for relaxing in the sun, enjoying a picnic, or kicking around a football.


Food and refreshments are available at the Sun Deck Café located on the second floor of the pool building. Left your goggles or pool toys at home? No problem, there is a pool shop on site with a wide range of swimwear and accessories for kids and adults.


Check their website and very active social media for news, updates and events like their summer concerts and fun moonlight swims!



Address: Hampton Pool, High street, Hampton Hill TW12 2ST
Opening Hours: Varies weekly. Check their weekly schedules on their website here
Price: £5.50 – 7.50 for adults, £3.50 – 4.30 juniors, varies based on peak times. Check the most up-to-date pricing here
Website: http://www.hamptonpool.co.uk




Brockwell Lido: A Quiet Swimming Pool in Brockwell Park




Surrounded by an art deco building, Brockwell Lido swimming pool (or Brixton's Beach, as the locals call it) is located in the 125-year-old green space called Brockwell Park and features an Olympic size pool (50m). Although Brockwell Lido is not a place where you can play with water toys or ride water slides (it is both outdoors and unheated), it is still a fun place to spend quality time with your children.


If your family prefers to swim away from all the water activities, then this the swimming pool for you! After your swim, enjoy a cup of coffee or a leisurely brunch at the lively Lido Café, serving modern British food and a variety of beverages for kids and adults.


Make sure to plan ahead and arrive early — if the sun is shining, expect to see a lot of other pool-goers. As always, we recommend you check the timetables on the website below as the general swim hours may vary.



Address: Brockwell Park, Dulwich Road, London SE240PA
Underground: Brixton
Opening Hours: varies daily. Check their most up-to-date opening hours here
Price: £6.10 for an adult, £3.50 for a child (special rates for family vouchers and early/late swim times)
Website: https://www.fusion-lifestyle.com/centres/brockwell-lido/




London Fields Lido: A Heated Outdoor Swimming Pool




If you are looking for a large, heated outdoor swimming pool (open all year round), then look no further: London Fields Lido is a perfect place to cool down and relax, and located not too far from the city center! You'll find it nestled away in London Fields Park, located in the London borough of Hackney: an area known for its up-and-coming art, food, and hip fashion scene.


The Olympic size swimming pool (50m) has swimming lanes available for serious swimmers, and a free swim area for casual swimmers and families. Make sure you check the schedules before going as there are "private" sessions, such as a Women's Only sessions.


As for the facilities, you will find a café kiosk (much better than an ordinary snack bar) and a large sun deck with a dedicated sunbathing area. Nice! Book your tickets online to beat the queues.



Address: London Fields Lido, London Fields West Side, Hackney, London, E83EU
Underground: Bethnal Green
Opening Hours: Every day from 6:30AM to 9:00PM
Price: £5.10 for adults and £3 for kids
Website: https://www.better.org.uk/leisure-centre/london/hackney/london-fields-lido




London Aquatics Center: An Olympic Swimming Pool




If the idea of swimming in a world-class Olympic venue intrigues you, then we have some good news for you! The London Aquatics Centre allows the public to swim in the wake of Olympic athletes who competed at this venue during the 2012 London Olympics. Here you will find three different pools that are sure to suit the needs of any family. There two Olympic sized (50m) pools: one for serious swimmers and one which is more suited for families and casual swimmers. The Centre also boasts a diving pool with several platforms and spring boards open to the public, as well as diving lessons available some days.


The most exciting aspect of the London Aquatic Centre is its weekend Aqua Splash sessions! These inflatable obstacle courses are sure to be the highlight of your kids' weekend! Children over the age of 5 can enjoy the 20m Aqua Splash wipe-out course and older kids (8 and over) can test their skills on the longer and more challenging Extreme Aqua Splash and Ultimate Aqua Splash courses. Will you and your children be able to beat it?


London Aquatics Centre truly does appeal to families of all different types and needs. In addition to the impressive and fun facilities mentioned above, the Centre operates poolpods which enable people with limited mobility to have independent access to swimming pools. These platform lifts and submergible wheelchairs are available in all three pools and allow everyone to join the fun and swim like an Olympian!



Address: Queen Elizabeth Olympic Park, London, E20 2ZQ
Underground: Stratford
Opening Hours: Every day from 6AM to 10:30PM. Check out the full schedule here
Price: Swim: £5.10 – 5.35 for adults and £2.80 – 3.00 for children, Aqua Splash: £7.50 – 10 for adults and £5.00 – 7.50. You can check out their complete price table here
Website: https://www.londonaquaticscentre.org/swimming




Charlton Lido: A Year-Round Outdoor Swimming Pool




If you are interested in year-round outdoor swimming, Charlton Lido is the place for you. This 50m Olympic sized pool is heated to 25C no matter the outside temperature. With between 2 and 4 lanes reserved for fitness lane swimming, your family can enjoy swimming and splashing around in the leisure areas.


Enjoy the views of Hornfair Park and satisfy yours snack and drink cravings at the Coffee Corner from 10-3 on weekdays and 10-4 on weekends.


There is also a shallow teaching pool for your little ones, open weekends and school holidays. Other facilities include two sun terraces, tennis courts, a gym and studio and a BMX race track.



Address: Charlton Lido, Hornfair Park, Shooters Hill Road, London, SE18 4LX
Underground: Brixton
Opening Hours: 7am to 8pm weekdays, 9am to 5pm weekends (note: if you plan to come before 9, you must book online as reception does not take transactions until 9). Check out their full schedule here
Price: £7 for an adult, £4 for a child (reduced prices for booking online). Check out their complete pricing table (for swimming and for their other facilities) here
Website: https://www.better.org.uk/leisure-centre/london/greenwich/charlton-lido




Parliament Hill Lido: A Swimming Pool with a Metallic Shimmer




The first thing you will probably notice when going for a swim in the Parliament Hill Lido swimming pool is the metallic shimmer in the water. This is due to the bright stainless steel liner at the bottom of the pool, which make this lido very unique. Located in Hampstead Heath and managed by the City of London Corporation, this swimming pool is the perfect place for families with children on sunny summer days.


The pool is 60m long (larger than an Olympic pool) and offers swimming lanes for those looking to exercise, as well as plenty of room for the kids to splash around. But since it is an outdoor and unheated pool, you may want to bring a wetsuit for your children on colder days!


And if you are coming with young kids (under 5 years old), there is a paddling pool for them as well.



Address: Parliament Hill Lido, Heath Lodge, Highgate, London NW5 1NA
Underground: Northern Line – Tufnell Park
Opening Hours: every day from 7AM to 12:30PM in winter
Price: various pricing packages and deals available. Check out their complete pricing table here
Website: https://www.cityoflondon.gov.uk/things-to-do/green-spaces/hampstead-heath/swimming/Pages/Swimming-opening-times-and-charges.aspx




Leyton Leisure Lagoon: A Swimming Pool and Aqua Play Area




Another great indoor option for your family is Leyton Leisure Centre, with a 25m leisure pool for lane swimming as well as an Aqua Play area for parents and children 8 and under to have a splash. This water playground includes tipping buckets, water jets, slides and more. If your younger children are not too comfortable with water, this will definitely help! For the older kids (and parents), there are plenty of other water activities such as water walkers, water scooters etc.


If you really want to spend a bit of time on your own and leave your young ones behind (under 5), there is a creche where you can let you kids play in a safe and secured environment for up to 2 hours while you enjoy the other great facilities Leyton Leisure Centre has to offer.



Address: Leyton Leisure Lagoon, 763 High Road, Leyton, E10 5AB
Underground: Leytonstone Station, Walthamstow Central
Opening Hours: Weekdays from 7AM to 10PM and weekends from 8AM to 5PM
Price: £3.50 to 4.85 for general swim, and £4.70 to 5.35 for the fun water activities. You an check out their complete pricing table (including for their other facilities and activities) here
Website: https://www.better.org.uk/leisure-centre/london/waltham-forest/leyton-leisure-centre




Park Road Leisure Centre: Outdoor and Indoor Swimming Pools




If your family can't decide between indoor and outdoor swimming, Park Road Leisure Centre offers the best of both worlds! Here are some of the types of pools that the Park Road Leisure Centre has to offer: a large indoor swimming pool, an open-air lido, a diving pool and a spa! All that and more is waiting for you and your family here!
For children between 8 and 15, there are special "Inflatable Fun Sessions", including water walkers and other floatation devices. If you are looking to swim for fitness, Park Road will meet your needs as well with lane swimming and even swimming lessons. For those who prefer dryer activities, you'll find many other healthy activities such as a gym and an indoor cycling studio.



Address: Park Road Leisure Center, Park Road, London N8 8JN
Station: Hornsey railway station
Opening Hours: weekdays from 6AM to 9:30PM and weekends from 7:00AM to 7:30PM
Price: £4.95 for indoor casual swim and £5.85 for lido swim
Website: http://www.fusion-lifestyle.com/centres/park-road-pools-fitness/activities/pool-and-swimming-lessons/pool-programme/




Tooting Bec Lido: The Largest Open-Air Swimming Pool in the UK




Boasting the largest open-air swimming pool in the UK, Tooting Bec Lido measures just over 90 meters long, almost twice that of an Olympic pool. Despite its giant size, you won't find any swimming lanes here—you and your family will have full access to this massive million-gallon pool. The bright blue water and colorful doors of the changing stalls that line the edge of the pool add to the fun environment at Tooting Bec Lido.


There is also a small paddling pool for toddlers and babies to join the fun. After your swim your family can enjoy a variety of hot and cold snacks at the café.

Be warned, this pool is not heated, so if you are looking for warm water, make sure the sun is shining! Fun fact: members of the South London Swimming Club often enjoy winter swimming when the water temperature drops below 5°C!



Address: Tooting Bec Lido, Tooting Bec Rd, London SW16 1RU
Underground: Tooting Bec, Balham
Opening Hours: Every day 6am-8pm from May to August, 6am/sunrise to 5pm during September, 7am/sunrise to 2pm from November to April (note: races are held each Sunday at 9:30am during which swimming is suspended for a short while)
Price: £ 7.50 for adults, £4.60 for children and £19.10 for family or four
Website: https://www.slsc.org.uk/home/




Finchley Lido: A Great Swimming Pool to Hang Out with Your Family




The Finchley Lido Leisure Centre is surely one of the most exciting and fun swimming pools in London, offering a unique swimming experience for your family. The outdoor lido is a great place for your family to hang out on a hot summer day, with a newly added refreshment kiosk serving drinks and snacks for the whole family.

But what makes this place truly special is what you'll find inside. Finchley's leisure pool will have you feeling like you are swimming in the tropics, with its beach entry, balmy 30C water and wave machine! Your family can also enjoy water cannons, air jets and a rolling rapids feature. And should you want to do some serious swimming, the 25m pool located next to all these activities will perfectly suit your needs.



Address: Finchley Lido, Great North Leisure Park, Chaplin Square, Finchley, London, N12 0GL
Underground: Finchley Central, East Finchley, West Finchley
Opening Hours: Weekdays from 6:45AM to 10PM and weekends from 8AM to 5PM
Price: £6.80 for adults and £4.15 for children. You can check out their complete pricing table (including pricing for their other faclities) here
Website: https://www.better.org.uk/leisure-centre/london/barnet/finchley-lido-leisure-centre

***Note that the Finchley Lido pool is closed until early 2020 for maintenance***