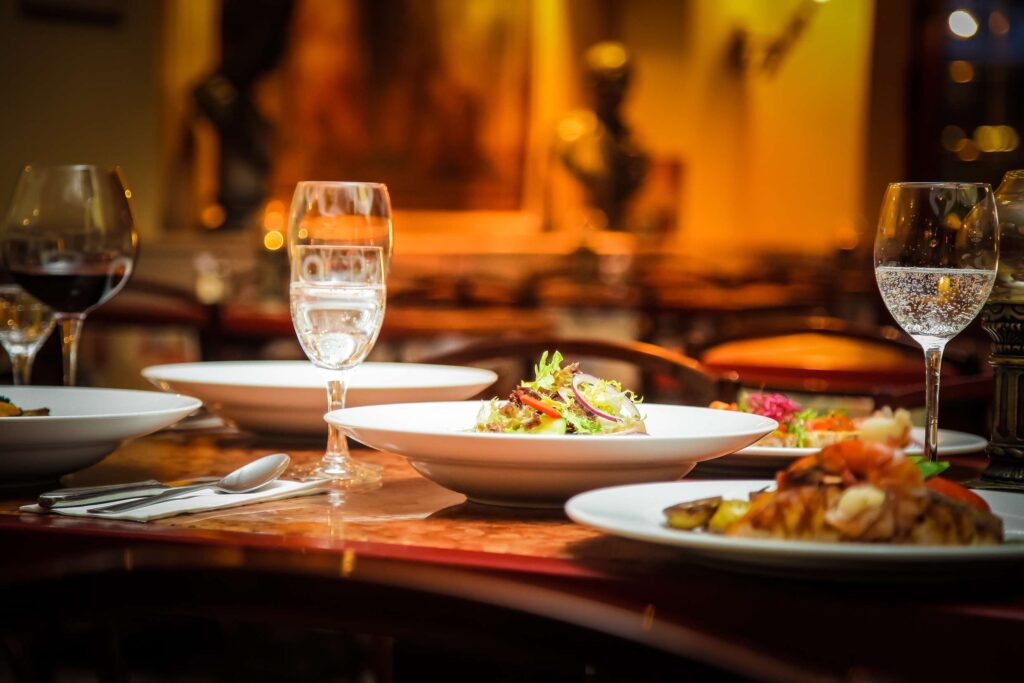 London is a city with many incredible restaurants, but what about restaurants that serve amazing food while still being kid-friendly? It may seem like you have to make a choice between a quality dining experience and a meal that will satisfy the whole family, but that's not the case. We've rounded up 9 of the best kid-friendly restaurants in London that will make the kids happy without sacrificing the quality of the meal or the experience for the adults.




WAHACA – A Kid-Friendly Mexican Restaurant in London



Wahaca may be a chain, but that doesn't take away from its delicious and fresh Mexican cuisine and its extensive kids' menu. In fact, Wahaca is perfect for the whole family—the food is authentic and never overly greasy or unhealthy! The decor and atmosphere is fun and lively, which kids will love. The kids' menu allows the young ones to pick their own taco fillings or choose the "cheesy toasted quesadilla sandwiches". With locations all over the city, Wahaca is truly convenient, but it's never "fast food". Wahaca also serves an abundance of vegan, vegetarian, and gluten-free options.


Address: various locations throughout London. You can find the full list of locations here
Hours: varies by location. You can find location-specific opening times here
Website: https://www.wahaca.co.uk/




HOMESLICE – A Kid-Friendly Pizza Restaurant



London may not seem like one of those cities that are synonymous with great pizza, but Homeslice seeks to change that. Serving up a selection of hearty pies (or slices!), Homeslice also offers vegan opions. The Covent Garden (Neal's Yard) location in particular is close to great shopping, so after a day of retail therapy, stop in for a delicious slice. Kids love it because of the incredible pizza and relaxed atmosphere—adults will probably love it for the same reasons! The menu is simple, but you really can't go wrong at this place.


Address: various locations throughout London. You can find the full list of locations here
Hours: varies by location. You can find location-specific opening hours here
Website: http://www.homeslicepizza.co.uk/




HONEST BURGERS – Kid-Friendly Burgers!



If your group is craving a classic burger and fries, Honest Burgers is the place to go. Their deliciously decadent burgers (and vegan options) will please the whole family. The location is casual, and so is the food, but it's truly tasty. Plus, their kids' menu serves the same burgers (just smaller!), so the whole family will be able to enjoy this place together. Be sure to check out their extra special brunch menu!


Address: various locations throughout London. You can check out the full list of locations here
Hours: varies by location. You can check out the location-specific opening times here
Website: http://www.honestburgers.co.uk/




THE MAYFAIR CHIPPY – Kid-Friendly Fish & Chips



How can you go to London without having some fish and chips? If your family is looking for this classic British dish done right, look no further than the Mayfair Chippy. There's no kids' menu here, but don' let that deter you – the fish and chips are the star of the show. However, for some extra incentive for the kids, the homemade ice cream is amazing here. If the adults are in need of some convincing too, it should be noted that this restaurant came recommended by the Michelin Guide in 2014 and won the Best Newcomer Award from the National Fish & Chip Awards in 2017 (yes, that's a thing!).


Address: 14 North Audley Street | Mayfair, London W1K 6WE, England. You can find their other locations in London here
Phone: +44 20 7741 2233
Hours: every day from 12 noon to 10pm (last orders at 9:45pm)
Website: http://www.mayfairchippy.com/




STICKY FINGERS – Rock n' Roll Made Kid-Friendly



This place is all about the rock n' roll. It's co-owned by Bill Wyman, a former member of the Rolling Stones. This themed restaurant is perfect for families—the menu is traditional American fare (think burgers, macaroni and cheese, and chicken strips for the kids and an assortment of burgers, steaks, and other dishes for adults). Combine the delicious food with an electric atmosphere, you can't go wrong at Sticky Fingers. You'll even see some rock and roll memorabilia on the walls!


Address: 1A Phillimore Gardens | Kensington Court, London W8 7QB, England
Phone: +44 20 7938 5338
Hours: 12pm to 10pm Sunday through Thursday, 12pm to 11pm Friday & Saturday
Website: http://www.stickyfingers.co.uk/




ROKA – A Kid-Friendly Japanese Restaurant



If you and your kids have a taste for some good Japanese cuisine, then you can't miss Roka. The staff is friendly and accommodating and the food is fresh and tasty. The interior is gorgeous but casual. If you sit near the kitchen area, you'll be able to see some of the food preparation happen, which is always fun. There is no kids' menu, but you can always order small plates of sushi, rice, or tempura. This is a great place for parents who still want to have an exciting meal with their kids.


Address: 37 Charlotte Street, London W1T 1RR, England. Roka also has other locations in London that you can find on their website here
Phone: +44 20 7580 6464
Hours: Monday through Saturday from 12:30 to 3:30 pm (till 4:00pm on Saturdays) and 5:30pm to 11:30pm, Sunday from 12:30pm to 4:00pm and 5:30pm to 10:30pm
Website: https://www.rokarestaurant.com/




HIX MAYFAIR – Gourmet Restaurant with a Kids' Menu



This is a unique example of a celebrated gourmet restaurant…with a kids' menu! HIX Mayfair is the perfect balance between a nice sit-down meal and an experience kids will actually enjoy. The beautiful interior is accented by different pieces of artwork, which gives the place a unique feel. The adults might enjoy some halibut or a fillet of steak, and for the kids? How about something from the "Little Artists" menu—maybe a "minute" steak with chips and some ice cream for dessert?
HIX also offers Kids Eat Free, where children under age 10 can choose a complimentary main course from the kids' menu when accompagnied by a dining adult from 4pm to 6pm on weekdays and 12pm to 6pm on weekends (only available at their Soho, Tramshed, and Hixter locations).


Address: various locations in London. You can find the full list of locations here
Hours: varies by location. You can find the location-specific opening hours here
Website: https://www.hixrestaurants.co.uk/restaurants/




TREDWELL'S – Good Elegant Casual Dining with Kids



For more casual dining in the Covent Garden neighborhood, head to Tredwell's, which prides itself on being welcoming to both adults and children. The kids' menu offers crispy chicken breast, cheesy tomato pizza, and more, while the standard menu boasts a selection of fish, chicken, duck, and steak. There's also a prix fixe menu and a special Sunday roast. Chef Marcus Wareing is dedicated to providing a delicious dining experience for the whole family, and he succeeds in doing so—the restaurant even won AA's London Restaurant of the Year.


Address: 4A Upper St. Martin's Lane | Covent Garden, London WC2H 9NY, England
Phone: +44 (0)20 3764 0840
Hours: Monday through Thursday from 12pm to 3pm and 5pm to 9pm, Friday from 12pm to 3pm and 5pm to 9:30pm, Saturday from 12pm to 9:30pm, Sunday and bank holidays from 12pm to 8:45pm
Website: https://www.tredwells.com/




SAVOY GRILL – Kid-Friendly Gordon Ramsay Restaurant



Chef Gordon Ramsay is one of the most famous British chefs today. Although he may have a bit of an intimidating personality on TV, his restaurants are consistently excellent. The Savoy Grill, situated in the Savoy Hotel, is no exception. Ramsey also caters well to children—there's a kids' menu at this restaurant and they are very understanding about allergies and dietary restrictions. In no way does that take away from this restaurant's gorgeous, refined atmosphere. This hotel was notorious in the past for welcoming notable like Marilyn Monroe and Winston Churchill. In fact the restaurant dates back to 1889, although it has underwent restoration since then. To visit a classic part of London's celebrity history and also enjoy a delicious meal with the family, pay a visit to the Savoy Grill. Reservations strongly recommended!


Address: 91 Strand | The Savoy Hotel, London WC2R 0EU, England
Phone: +44 (0)20 7420 2065
Hours: Monday through Saturday from 12pm to 3pm and 5pm to 12am, Sunday from 12pm to 4pm and 5pm to 11pm
Website: https://www.gordonramsayrestaurants.com/savoy-grill/