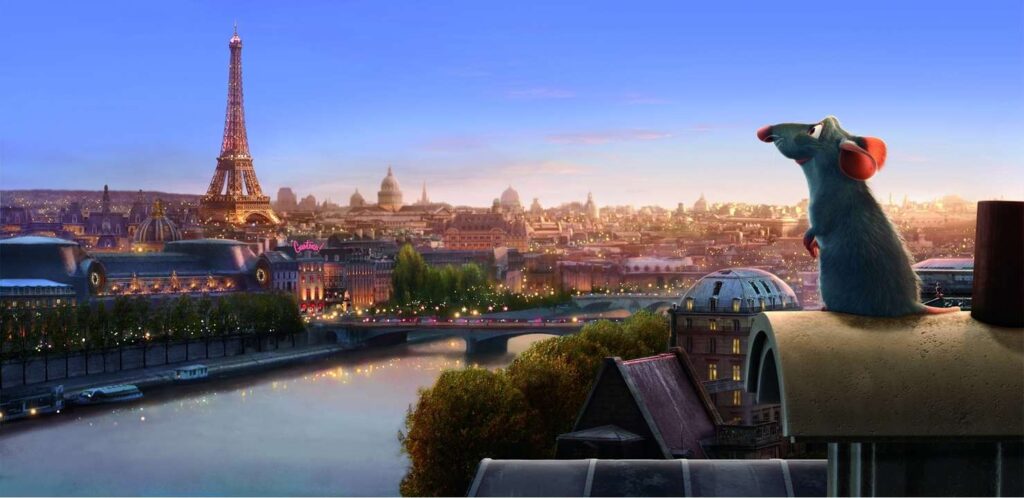 Paris has always been a great source of inspiration for the movie industry. Think about it… I am sure you can name at least 5 movies where you can see the Eiffel Tower. And never mind the movie genre. We've seen the city of Lights in all of them: children's animated movies, romantic comedies, action-packed movies and even bloody horror productions!
However, just like with any major silver screen production, there are some movies that are better than others. While some really do showcase the true Parisian atmosphere and spirit, others, on the other hand, just get it completely wrong!
We are not going to talk about all the movies that have used the Paris as the decor. Since Family Twist is a 100% family-oriented travel agency, we thought we'd give you an insight on the best family friendly movies that take place in Paris! After all, it's always nice to watch a movie about your next travel destination, and when traveling with kids, it's a great way to get your children motivated and interested. Animated or not, here are the 10 best family-friendly movies you must watch before going to Paris.





# 10 – Madeline


Madeline might not be the most famous movie of all time, but it is definitely worth watching when planning a family holiday to Paris. You will have a glimpse at a lot of iconic areas of Paris when Madeline heads out on adventures outside her Parisian boarding school.
Plot: In 1956, the adventurous orphan Madeline attends a boarding school in Paris, headed by her school-mistress, Miss Clavel, a nun. Madeline is very good at getting into trouble but she is also very good at solving problems. When she learns that Lord Covington has decided to sell Miss Clavel's school, Madeline and her friends set out for an adventure like never before, which hopefully will lead to saving the beautiful boarding school that she calls home.
Year: 1998
Main Cast: Frances McDormand, Nigel Hawthorne and Hatty Jones
Adaption of the book series by Ludwig Bemelmans
Trailer: https://www.youtube.com/watch?v=dYqx5vFA6is





# 9 – Before Sunset (for teenagers)


Richard Linklater's Before Sunset is the sequel to the first episode of the "Before" trilogy. Since this movie is mostly about two people talking and sharing their history and points of view about life and love, it might not be entertaining enough for young children. When it comes to enjoying off the beaten path views of Paris, and getting the essence of Paris with its small cobblestone streets, cozy bookstores, parks and cafés, nothing beats this powerful romance.
Plot: American author Jesse Wallace is in Paris to promote his best-selling book: a love story that strangely resembles his own experience with Celine, a French woman he met in Vienna 9 years earlier. As his presentation draws to a close, Jesse spots Celine in the crowd. Although he only has a couple of hours before his flight back to the US, Jesse decides to walk the streets of Paris with Celine and talk about what has happened in their lives in the intervening nine years. They discuss their current lives, their philosophies on life and love, this time knowing how their day together in Vienna has shaped their future.
Year: 2004
Main Cast: Ethan Hawke, Julie Delpy
Trailer: https://www.youtube.com/watch?v=HurI2rFB_mk





# 8 – A Cat in Paris (Une vie de Chat)


A Cat in Paris is a French animated movie. With a drawing style that is completely different from the all-too-famous Disney or Dreamworks classics, Une Vie de Chat garnered an Oscar nomination in 2011. Since it is a French movie, it is very close to the Parisian spirit, and there are many references to French culture, art and history. The movie is as entertaining for adults as it is for kids.
Plot: Dino is a cat that leads a double life. Gentle cat by day, he lives with Zoe, a little girl whose mother, Jeanne, is a police officer. But by night, Dino's life is totally different: he teams up with Nico, a kind-hearted burglar. After the murder of Zoe's father by Costa, a dreaded gangster, Dino brings Zoe a lovely bracelet. But the police officer soon notices this bracelet is part of a jewelry collection that has been stolen. Zoe then decides to follow Dino and discovers that her nanny, Claudine, is part of Costa's team…
Year: 2010
Main cast (English Voices): Marcia Gay Harden, Steven Blum, Angelica Huston, Lauren Weintraub
Trailer: https://www.youtube.com/watch?v=H7e07c52VWg
Experiment with the camera with our fun-packed "See Paris From Behind the Lens" activity. Contact Family Twist for details!





# 7 – Moulin Rouge (for teenagers)


Moulin Rouge is one of the best movies when it comes to capturing the essence of old Montmartre. The charming "village" of Montmartre, in the North of Paris is still one of the most artistic neighborhoods of the French capital. Since 1784, the foot of Montmartre hill has been an area dedicated to art, fun, dance and alcohol. Many artists such as Van Gogh, Picasso, Dali, Renoir and Toulouse Lautrec would come here and drink and dance their night away. The Moulin Rouge is the most iconic cabaret of Montmartre: its classic French Cancan attracts thousands of spectators every night.
Plot: In 1899, Christian, a young English writer, comes to Paris to document the thrill of its underworld. It is at the Moulin Rouge, a night club where the rich and poor men alike come to be entertained by the dancers, that this underworld is on fire! Soon, Christian finds himself in a dangerous love affair with the Spakling Diamond of the Moulin Rouge: Satine. A jukebox musical featuring hit pop songs, enjoy Baz Luhrmann's spectacular spectacle that truly captured the bohemian spirit of old Montmartre.
Year: 2001
Main Cast: Nicole Kidman, Ewan McGregor
Trailer: https://www.youtube.com/watch?v=2PpgPxjzbkA





# 6 – A Monster in Paris


A Monster in Paris (French title: "Un Monstre à Paris") is a great movie to watch with the whole family before going to Paris. This animated movie is as interesting for adults as it is for kids. With great Parisian backdrops, including the Eiffel Tower, the Sacré Coeur Basilica and the lovely narrow streets of old Paris, A Monster in Paris will definitely leave you wanting to head out to Paris the moment the movie ends!
Plot: Emile, a movie projectionist, and Raoul, an eccentric inventor, are on the hunt for a monster terrorizing citizens in Paris in the early 1900s. Lucille, the star of a famous Parisian cabaret, as well as an eccentric scientist and his crazy monkey all join Emile and Raoul…to save the monster. It appears that this "monster" is none other than an over-sized but harmless flea, but the city's ruthless police chief is on a quest to eliminate him.
Year: 2011
Main Cast (French stars): Gad Elmaleh, Vanessa Paradis, Matthieu Chedid, François Cluzet
Trailer: https://www.youtube.com/watch?v=eJnv3DPZn1M





# 5 – The AristoCats


The AristoCats is one of Walt Disney's all-time greatest animated movie, and has entertained many generations since its release in 1970. The story takes places in Paris and although the movie does not have the same quicker tempo as the newer Disney movies, the children will not only have a great time while watching it, they will also learn a lot about the landmarks and culture of France. A perfect introduction to your next family holiday destination.
Plot: Adelaide Bonfamille is a retired women who likes to spend her time in her Paris villa with her cat Duchess and her three kittens: Berlioz, Toulouse and Marie. But when Edgar, the butler, hears that she will leave her wealth to the cats, he drugs and kidnaps them. The cats must find their way back to their home and owner, and with the help of a daring and charismatic alley cat and other animals, they outsmart the evil butler's plans…
Year: 1970
Main Cast: Phil Harris, Eva Gabor, Sterling Holloway, Scatman Crothers
Trailer: https://www.youtube.com/watch?v=scZSFUwgeIM





# 4 – Midnight in Paris (for teenagers)


Whatever your opinions on Woody Allen, Midnight In Paris is truly one of the most beautiful movies about Paris. Set in both modern times and the early 1900s, the whole family will be able to enjoy the beauty of modern Paris as well as its special ambiance 100 years ago. A Paris that the Lost Generation of Hemingway, Fitzgerald and Gertrude Stein loved so much…
Plot: Gil and Inez, who are about to get married, are in Paris for a holiday. Gil, already passionate about Paris' golden age of the 1920s, immediately falls in love with the city. One night, while Inez goes off dancing with her friends, Gil takes a walk in the streets of Paris and, at midnight, he is transported to the 1920s, where he meets all his Lost Generation idols. Gil soon notices that his walks take him closer to the time he loves, but further from the woman he will soon marry.
Year: 2011
Main Cast: Owen Wilson, Rachel McAdams, Kathy Bates
Trailer: https://www.youtube.com/watch?v=FAfR8omt-CY





# 3 – The Hunchback of Notre Dame


Another one of Disney's classics, the Hunchback of Notre Dame is an adaptation of Victor Hugo's most famous novel: "Notre Dame de Paris". Back in 1831, when the book was published, the Cathedral of Notre Dame was meant to be destroyed as it was abandoned and very fragile after the French Revolution. The book helped save Notre Dame, and a long phase of renovation works made it the famous cathedral it is today. The movie is a great way to discover the history of Paris' most visited monument.
Plot: The Hunchback of Notre Dame is the story of Quasimodo, the misshapen but gentle-souled bell ringer of Notre Dame. Nearly killed as a baby by Claude Frollo, the Minister of Justice, Frollo is forced by the Archdeacon of Notre Dame to raise the hunchback. But Quasimodo is hidden from the world by Frollo in the belltower of the cathedral. One day, encouraged by his gargoyle friends, Quasimodo decides to take part in the Festival of Fools. He meets the lovely gypsy girl Esmeralda and the handsome soldier Phoebus. The three of them unite to fight Frollo and his attempt to destroy the home of the gypsies, the Court of Miracles, and Notre Dame Cathedral.
Year: 1996
Main Cast: Demi Moore, Jason Alexander, Tom Hulce
Trailer: https://www.youtube.com/watch?v=O6i3lyx1I_g
Learn all about Notre Dame with out "Knights and Damsels" tour of Medieval Paris.





# 2 – Amelie (for teenagers)


Amélie is an innocent, feel-good French movie (original title: "Le Fabuleux Destin d'Amélie Poulain"), that is best for kids in their early teens. Directed by one of France's most talented directors, Jean-Pierre Jeunet, Amélie is the perfect family-friendly movie to watch if you plan on spending time in Montmartre. Once in Paris, you will be able to hunt down all the places that you can see in the movie: the café, the grocery store and even the merry-go-round.
Plot: Amélie is a young woman with quite an unusual childhood: her father mistakenly thought she had heart failure. Without having any real contact with other people, she preferred the security of her own make-believe world. When moving into an apartment, she finds a treasure and sets out to return it to its rightful owner. After seeing his reaction of joy, she decides to devote her life to the people around her: her father, a failed writer, a hypochondriac, a man who stalks his ex-girlfriends, and a man whose bones are as brittle as glass. Her actions will take her through an amazing adventure that will lead to capturing the beauty of love she has always dreamed of.
Year: 2001
Main Cast: Audrey Tautou, Mathieu Kassovitz, Rufus, Jamel Debbouze
Trailer: https://www.youtube.com/watch?v=HUECWi5pX7o
Book our "The Village of Montmartre" activity to know everything about this Parisian neighborhood.





#1 – Ratatouille


Ratatouille is a great movie to watch with the whole family before going to Paris. This animated Disney movie has everything Paris has to offer: the culture, the iconic monuments, the French accent and of course… the food! After watching Ratatouille, the whole family will want a taste of the real Paris, and go out to discover the many riches of the French capital.
Plot: Remy the rat dreams of becoming a great French chef. But the problem is… he is a rat! However, fate helps Remy find a place where he has always wanted to be: a restaurant owned by his culinary hero, Chef Gusteau. Despite being an unwanted living creature in a kitchen, Remy soon teams up with a young apprentice to make some of the best dishes food critics have ever tasted!
Year: 2007
Main Cast: Patton Oswald, Ian Holm, Lou Romano, Brian Dennehy
Trailer: https://www.youtube.com/watch?v=c3sDAqk BBRx
Learn how to bake your own bread or take a patisserie baking class when in Paris! Contact Family Twist for details.