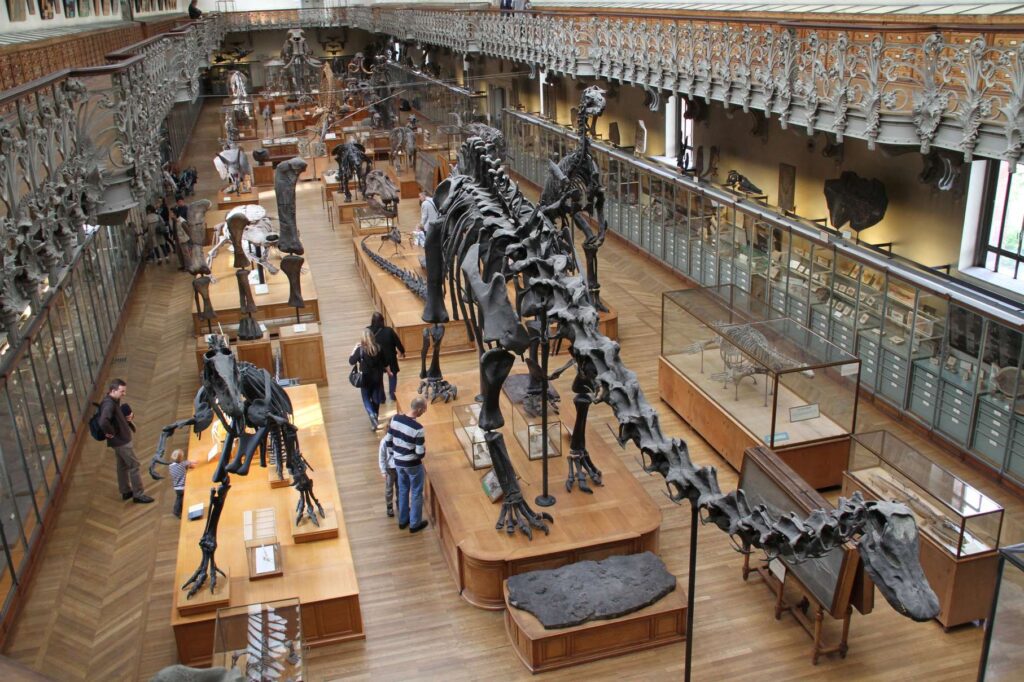 The museums of Paris are some of the best in the world. Although visiting a museum may seem like an activity reserved for adults, kids can get a lot out of museums as well, as long as they're at the right museums. We've rounded up the 11 best kid-friendly museums in Paris for exploration and discovery for the whole family. These museums are full of new things to learn and exciting hands-on experiences!




1. Cité des Sciences et de l'Industrie (Museum of Sciences and Industry)


This museum, which is the largest science museum in all of Europe, is one of the best kid-friendly museums in Paris. They'll love the large playground and exciting exhibits, all created with kids in mind, like the Géode IMAX theatre, the submarine or the planetarium. The "permanent collection" of the Cité des Sciences is the Explora Collection, with highly interactive attractions that will amaze kids of all ages. The collection is built around 11 different themes: Light, Sound, Math, Genetics, Image, the Ocean, Space Exploration, Transportation, Energy, Rocks and Volcanoes, Stars and Galaxies. Everything is located around the main central hall, making it easy to navigate in and out of these different departments. And if you want to see more, there are always temporary exhibitions related to life sciences. For an educational yet still engaging and hands-on experience, this museum is the way to go.
Address: 30 Avenue Corentin Cariou, 75019
Metro: Corentin Cariou, Porte de Pantin
Website: http://www.cite-sciences.fr/
Hours: Tuesday through Saturday from 10am to 6pm, Sunday from 10am to 7pm
Price: €12 for adults, €7 for children. You can book your tickets online here




2. Musée des Arts Forains (Fairground Art Museum)


This museum, which focuses on the history of funfairs and carnivals, is a fascinating place to explore, especially with kids. Discover the four different exhibits, which are more like worlds of their own: the Theater of Marvels, the Venetian Salons, the Green Theater, and the Fairground Art Museum. Each world has its own theme and many curated antique items. There are also opportunities for guest participation! The only way to tour this museum is by booking a guided tour in advance, but it is really worth it to have a one-on-one experience at this beautiful museum. Truly a great kid-friendly museum in Paris.
Address: 53 Avenue des Terroirs de France, 75012
Metro: Cour Saint Emilion
Website: http://www.arts-forains.com
Hours: 10:00am to 6:00pm by reservation only. Book your guided tour here
Price: €16 for adults, €8 for children aged 4 to 11, and free for children under age 4




3. Le Palais de la découverte (Discovery Palace)


In some ways, Le Palais de la Découverte is like the little sibling of Cité des Sciences et de l'Industrie. This museum also has a planetarium and various exhibits perfect for kids. There are also workshops and demonstrations that are educational but still exciting. You'll also find a café and a gift shop, which sells fun educational books and games so you can take the experience home with you. For lessons on physics, math, chemistry, astronomy, and more that are actually entertaining, this is the museum to visit. Located near the Champs-Elysées Avenue, it is a convenient and very kid-friendly museum in Paris.
Address: Grand Palais, Avenue Franklin Delano Roosevelt, 75008
Metro: Champs-Elysées, Invalides, Franklin D. Roosevelt
Website: http://www.palais-decouverte.fr/en/home/
Hours: Tuesday through Saturday from 9:30am to 6:30pm, Sunday from 10am to 7pm
Price: €9 euros for adults, €7 for everyone under 25, and free for children under 6 (must present valid documentation to get discounted prices/free entry. 3 euros extra for access to the planetarium and for special workshops




4. Le Musée des Arts et Métiers (Art and Design Museum)


This kid-friendly museum in Paris was founded at the end of the 18th century and houses historical technological innovations. Here, you can discover seven different exhibits: Scientific Instruments, Materials, Energy, Mechanics, Construction, Communication, and Transport. We recommend following the order of the exhibits to best learn the history of the scientific and philosophical revolution. There are guided tours and audio guides offered to give you the full experience of the museum. There are also temporary exhibitions and workshops at different times during the year, so make sure to check their website to see if there are any special events you may want to attend.
Address: 60 rue Réaumur, 75003
Metro: Réaumur-Sébastopol, Arts et Métiers
Website: http://www.arts-et-metiers.net/
Hours: Tuesday through Sunday from 10am to 6pm (late night Thursday until 9:30pm)
Price: €8 for adults and free for children




5. Le Musée du Quai Branly – Jacques Chirac


Even if you only go for the beautiful location (which boasts a magnificent garden), this museum is worth the trip. The Musée du Quai Branly is massive. Inside, you'll find indigenous art from Africa, Asia, the Americas, Europe, and Oceania. The museum offers a complete immersion into these ancient cultures and civilizations through different artifacts, videos, and temporary exhibitions (which occur frequently and can include workshops and other attractions). This place is a truly beautiful sight to behold—both the place itself and the art it houses. It is no surprise to have the Musée du Quai Branly in our list of the top 11 kid-friendly museums in Paris.
Address: 37 Quai Branly, 75007
Metro: Invalides, Alma-Marceau, Ecole Militaire
Website: http://www.quaibranly.fr
Hours: 11am to 7pm Tuesday, Wednesday and Sunday, 11am to 9pm Thursday through Saturday
Garden Access: 9:15am to 7:30pm Tuesday, Wednesday and Sunday, 9:15am to 9:15pm Thursday through Saturday
Price: €12 for adults, €9 for children




6. Le Musée de l'Armée (Army Museum)


The Invalides is an iconic building in Paris. Recognizable by its huge golden dome, the Invalides is most famous for housing Napoleon's tomb. But it is first and foremost home to the Army Museum, with a fascinating collection of armors and weapons throughout the ages. From massive medieval jousting and combat armors to the weapons used on the battle grounds of the Napoleon wars or the two world wars of the 20th century, both adults and children will find it fascinating. It's not too violent or intense for kids, either. While you are at Invalides, don't forget to visit Napoleon's tomb, located in the dome church! After all, it is the highlight there…
Address: 129 rue de Grenelle, 75007
Metro: Invalides, Tour Maubourg, Varenne
Website: http://www.musee-armee.fr
Hours: Every day from 10am to 6pm from April 1 to October 31, every day from 10am to 5pm from November 1 to March 31
Price: €12 for adults, free for children




7. Le Musée du Moyen-Age/Musée de Cluny (Middle Ages Museum)


The Middle Ages was one of the most fascinating periods in history, especially for children. Kings and queens, knights and princesses, and not to mention the fairy tales that were inspired by this period – kids can't get enough, and this museum is perfect for learning about this time in history. It's not only information-based, either. There are workshops offered, fun animations to illustrate what life was like during this time, and other cool discoveries to make in this museum.
Family Twist offers a guided tour to fully take in all the knowledge this museum has to offer in our Paris' Knights & Damsels Tour. Please contact us if you are interested in booking this tour.
Address: 6 Place Paul Painlevé, 75005
Metro: Cluny – La Sorbonne, Saint-Michel
Website: http://www.musee-moyenage.fr/
Hours: Every day except Tuesday from 9:15am to 5:45 pm
Price: €5 for adults, free for children and teenagers. Free for everyone on the first Sunday of every month




8. Le Musée de la Magie (Museum of Magic)


Also known as Le Musée de la Magie et des Automates (animatronics), this museum, found in the heart of Paris, has a truly mysterious vibe that kids will love. The entrance is narrow and discrete, appropriate for a museum like this. The visit will be guided by magicians who will take you through the museum and explain each of the exhibits. Kids will learn about illusionists and their craft from the 18th century to now. The guides will even use some of their "powers" throughout the tour! We recommended that you see the animatronic part of the museum (3 euros extra), where more than 100 animatronics, fully functioning and well preserved, can be played with.
Address: 11 rue Saint-Paul, 75004
Metro: Saint-Paul, Sully-Morland
Website: http://www.museedelamagie.com
Hours: Wednesday, Saurday and Sunday from 2pm to 7pm, every day during Zone C school holidays
Price: €13 for adults, €10 for children aged 3 to 12




9. Le Musée d'Histoire Naturelle (Museum of Natural History)


The Museum of Natural History in Paris is not just one museum. It's a gathering of many different disciplines, all located around the Jardin des Plantes in the east of Paris. Among those different disciplines, 4 of them are worth mentioning and are perfect kid-friendly museums. The Gallery of Paleontology is one of the highlights, with skeletons of dinosaurs, including a giant crocodile and other huge creatures of the past. In the same building, you will also find skeletons of modern animals, such as the imposing blue whale, the biggest animal that ever existed on earth. Other galleries include the Great Gallery of Evolution, where taxidermied animals of all sorts are staged in a beautiful building, the Menagerie (the second oldest zoo in the world that dates back to 1793) and the Great Greenhouses (you will find yourself in a tropical climate!). A perfect place for kids where they will learn as much as they will have fun!
Address: 36 rue Geoffroy Saint-Hilaire, 75005 Paris
Metro: Line 5 / 10 – Gare d'Austerlitz
Website: https://www.mnhn.fr/en
Hours: Open every day from 10AM to 6PM except Tuesdays and holidays
Price: €7 for the Great Gallery of Evolution, €7 for the Gallery of Paleontology, €11 for the Menagerie, and €6 for the greenhouses. Check out their different ticket offerings and special deals here and buy your tickets online here




10. Le Musée en Herbe – Modern Art Explained to Children


If you still think that modern art is out of bounds for children, then think again. The Musée en Herbe is designed for children and offers an interesting and engaging approach to modern art. Here, the children will have loads of fun discovering the world of modern art and learn how to interact with that type of abstract art! Forget about a boring classic visit to a museum, but think of it more like an immersion into a unknown, fantastical world where the children will be able to have fun and learn a great deal about the art of today. The museum is mainly designed for French speaking visitors, but they welcome English speaking families with pleasure.
Address: 23 Rue de l'Arbre Sec, 75001 Paris
Metro: Line 1 – Louvre Rivoli
Website: http://www.musee-en-herbe.com/
Hours: Open every day from 10AM to 7PM and until 9PM on Thurdays.
Price: €6 per person for an unguided visit (€10 for kids and €6 for adults for a guided visit). Check out their different activity offerings and pricings here (click Familles on the top bar when you get to their homepage!)
*The website is unfortunately only available in French, but you can also call them at +33 01 40 67 97 66




11. Le Louvre – A Treasure Hunt Your Kids Will Never Forget


Last but not least, the Louvre museum should be mentioned on our list of the best kid-friendly museums in Paris. Of course, if you go for a classic visit to the Louvre, and don't plan ahead what you would like to see, this escapade can quickly become a nightmare. But if you want to make it extra fun for the children and get a chance to see the main highlights of the Louvre, then consider booking Family Twist's Treasure Hunt at the Louvre. This is the perfect way to keep your children engaged and entertained in this iconic museum.
Address: Musée du Louvre, 75001 Paris
Metro: Lines 1 & 7 – Palais Royal – Musée du Louvre
Website: http://family-twist.com/family-friendly-activities/paris/treasure-hunt-louvre/
Hours: Mondays, Thursdays, Saturdays and Sundays from 9am to 6pm, Wednesdays and Fridays from 9am to 9:45pm. Closed on Tuesdays
Price: 385€ for a private visit, for up to 6 people
If you want to have more information on these kid-friendly museums in Paris, or if you want us to include one or more of them in a tour, please contact us. We will be more than happy to help you make the most of your family holiday in Paris!