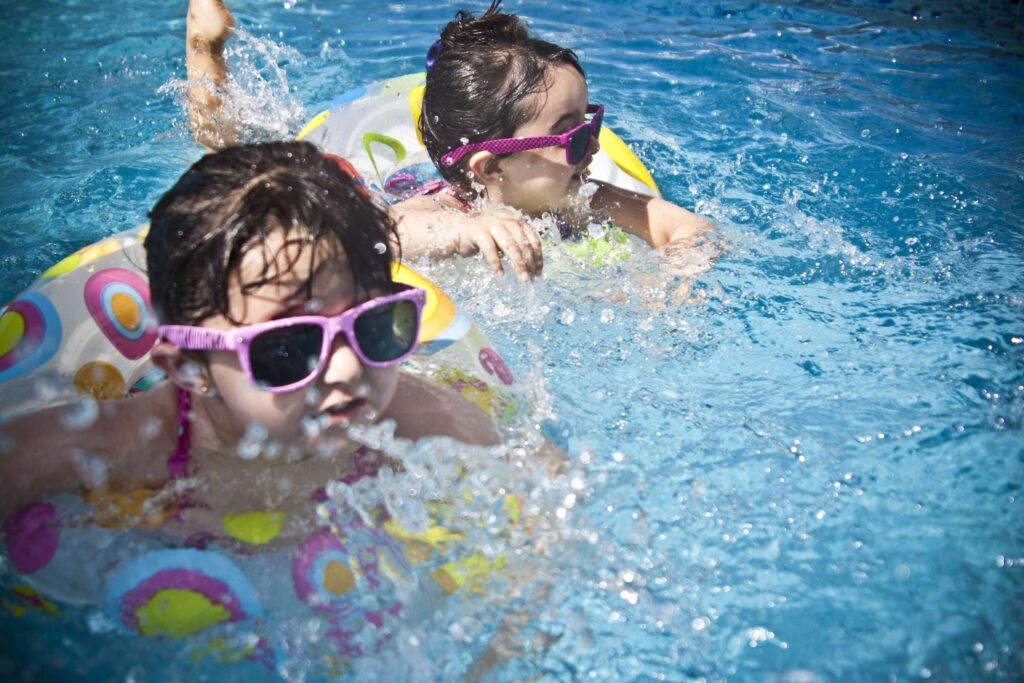 Nothing is more beautiful than a sunny day in Paris. With Spring in full swing and Summer temperatures rapidly rising, we know the perfect way to spend a day with your family during your vacation in Paris… swimming! Yes, a day lounging poolside is the perfect solution if your family is sick of humid, crowded Metros and Museums, not to mention something the whole family can get on board with.


Cool off in Paris' best secret gems of public and private pools. We have compiled a list of the best family-friendly swimming pools in Paris. Our favorites include pools with everything from Olympic quality, gorgeous Art Deco influence, and rooftops with amazing views. Grab your sunscreen and your towels (and your children!) and get ready for an amazing day!





Piscine Keller: A beautiful natural light filled swimming pool in Paris

Originally constructed in the 60s, Piscine Keller has a retractable roof perfect for a Summer day. They have two pools, one "small" and another Olympic sized measuring over 50 meters. The Olympic sized pool is perfect place to practice your breaststroke with your family this summer and the smaller pool lends itself perfectly to the younger ones.







Piscine Josephine Baker: A swimming pool in Paris with a view

Located next to the Seine river, Piscine Josephine Baker will delight the entire family. The outdoor pool is perfect for splashing around with your children in the summer months. As an additional bonus, it looks out onto the Bibliothèque (library) François Mitterrand so you can pick up a great poolside read before you start relaxing. This summer you and your family can pass the sunny day like true Parisians.







Piscine Pailleron: The Parisians' favorite swimming pool… and more!

The extremely popular Piscine Pailleron usually has a bit of a wait to get in, and for a good reason. Including a gorgeous swimming pool, ice-skating in the winter, fully equipped fitness center, aqua sports, and jacuzzi there is truly something to satisfy even the pickiest of kids. They have everything you would need for a great day at the pool, snacks included. It's located just outside of Paris and a perfect way to escape and relax for a day like a real Parisian local.







Piscine de la Butte aux Cailles: Swim back in time to 1920s Paris

Quite possibly the most interesting architecturally designed public pool in Paris, Butte aux Cailles' colorful design will enchant your family. It was built in 1924 and one of the few public pools to be classified as a historical landmark in 1990. If your family finds themselves near the 13th arrondissement, Butte aux Cailles is definitely worth a visit.







Centre Aquatique de Neuilly-sur-Seine: A swimming pool in Paris with something for everyone

Water parks, we know your dread about going to those crowded dirty pools that your kids go crazy for, but at Neuilly you and your spouse can enjoy yourselves too. Neuilly can be classified as an aquatic center, there are three indoor pools of various sizes, a sun room, and a "beach." Your kids will love the water slides and large grass lawns to play around and the parents can enjoy the clean facilities. Truly there is something that will satisfy the whole family, a day of fun lies ahead!







Paddling Pool & Mini Water Park at Jardin d'Acclimatation: Cool off in one of Paris' biggest parks

After your family visits the Louis Vuitton Foundation, the Jardin d'Acclimatation is a great way to pass the rest of a beautiful spring day. The Jardin (garden) is not a traditional pool, but rather an open playground with a variety of water features and fountains incorporated throughout. There are plenty of kids frolicking and playing in the beautiful grounds, your child might even make a new French playmate! Additionally, there is plenty of space to sunbathe while your kids are enjoying the playground.







Piscine Molitor: Sit poolside like Parisian socialite  

Transformed to host different avant-garde fashion shows and galas, the piscine Molitor's ambiance is truly luxurious. At this pool in the summer of 1946 the first bikini walked down the runway atop the pool. Located in a hotel of the same name and inaugurated in 1929, this pool is a great destination that you and your kids will love. The Art Deco feel will make the whole family feel like Parisian 40s movie stars, we highly recommend this pool if your family is willing to spend a little extra for ambiance.







Aquaboulevard: Float down a Parisian lazy river

The biggest urban water park in Europe is Aquaboulevard in Paris. Children will have endless entertainment with the 11 water slides, numerous pools and jacuzzis, and a lazy river. The possibilities are truly endless at Aquaboulevard and it's a great water park for some whole family fun. The large facilities simulate a beach with a large pool with "beach-side" lounge chairs and palm trees. Who would've known about Paris' beach?







Royal Monceau: A luxury spa swimming pool in Paris

Looking for a pool with the best of both worlds? Royal Monceau is your answer! Your family can splash and play Marco-Polo around in the luxury pool while you slip away for a quick spa treatment. The 23 meter infinity pool is located inside the hotel and a great option to relax after a day jam packed full sightseeing around Paris. The only thing to note is that it is a spa, so quiet voices are encouraged, but all of the family is welcome.







Piscine Roger Le Gall: A swimming pool in Paris with (or without) a roof

Swimming pools and summer go hand-in-hand, and there is nothing better than being outside when it's a hot sunny summer day in Paris. Especially when you can go for a swim! The Piscine Roger Le Gall is one of the only swimming pools in Paris with a "sunroof". While it is covered and heated in winter, the roof is taken down in summer to make it perfect for adults and children alike. It is a big pool perfect for lap swimming, so if your kids were born with gills they will love practicing! One of the cheaper options on the list, your family will love the views all around the pool.







So, now you know all of our favorite spots to lounge poolside in Paris. If you would like more information on this article, our services, or to inquire about your next family vacation, don't hesitate to connect with us at contact@family-twist.com. Additionally, if you are searching for the perfect restaurant or snack for after your day of swimming with your family, check out our other articles on the blog! It is filled with the best recommendations of what to see, where to go, and what to do in our favorite European cities directly from locals!