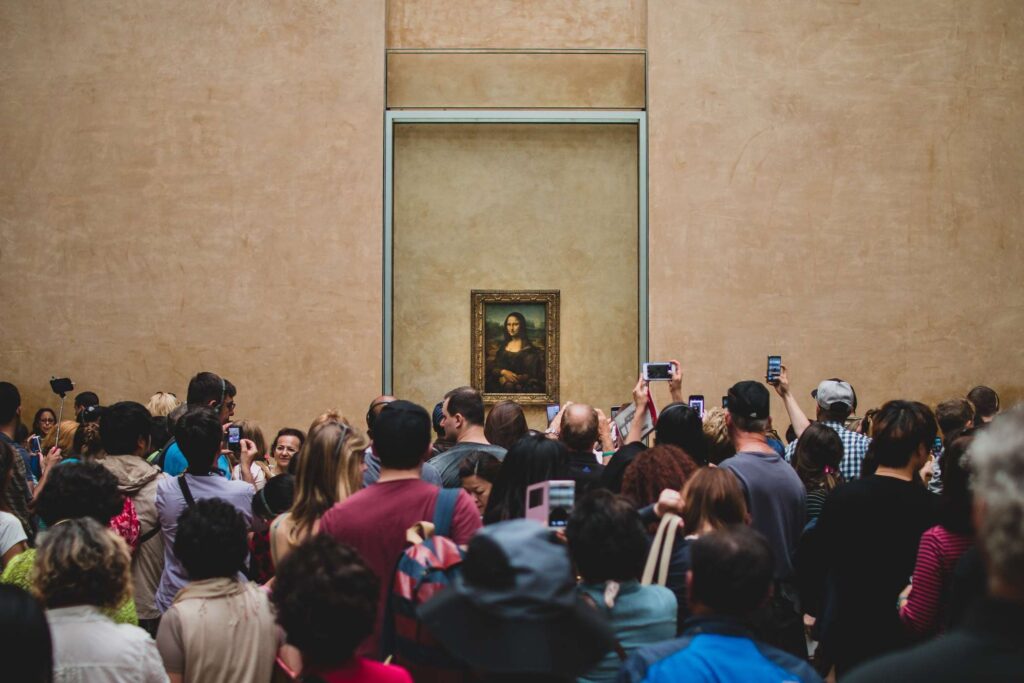 Ask any Parisian parent why they never go visit the Louvre Museum with their children and they will all give you the same three reasons:

– It's way too big (there are over 30,000 works of art displayed on 60,600 m². So if you want to see all of it during the 9 hours that the Louvre is open, you'll have less than 2 seconds per artwork and more than 2 bruises on your feet at the end!)

– It's way too crowded (there were 9 million visitors in 2015, so that's 25,000 visitors per day!)

– It's not suitable for children. They'll start complaining and crying, the parents will get irritated and the whole excursion will turn into a nightmare for everyone! Remember when you were young and your parents dragged you to a fine arts museum? You'd be hard-pressed to name something less exciting than that.



However, missing out on the Louvre on a first visit to Paris would be a pity. The Louvre Museum is the world's most visited museum for a simple reason: some of the most iconic works of art are on display there. Think the Mona Lisa, the Venus de Milo, the Winged Victory of Samothrace and countless other works by world-renowned painters such as David, Delacroix, Géricault, Vermeer and Veronese. That's plenty of reasons to visit this ancient Royal Palace that turned into a museum in 1793!




What the Parisians say is only half true. The Louvre is "too big" but only if you are not organized and don't plan your visit in advance. It is "too crowded" only if you don't have skip-the-line tickets or don't know less-crowded entry points. And it can be boring for children if you don't make it entertaining for them.
Here are the do's and don'ts to make your visit to the Louvre with kids an unforgettable experience. You'll find tips on how NOT to visit the Louvre with kids and what to do instead to make it a smooth, entertaining, and interesting visit for you and your whole family.





1. Entering the Louvre

Don't:




– Visit the Louvre museum with your children on a weekday afternoon and try to get in through the iconic glass Pyramid (main entry point). That's probably the worst idea you can have! Just the sight of the long security check line will scare you and your kids. And if you do get through those seemingly never-ending, your family won't have any strength left to visit the museum!
-Bring bulky, heavy bags with you. Items exceeding 55x35x20cm in size are not permitted in the museum. Pack light and you'll also clear the security check a lot faster!


Do:



-Come prepared! In February 2019, faced with massive overcrowding, the Louvre strongly urged visitors to book their tickets online in advance. Book your tickets online beforehand through the official website here (website available in French, English, and Spanish).
***IMPORTANT NOTE: Starting from the end of 2019 (approximately from October or November, online reservations will be MANDATORY to enter the Louvre. Make your reservation online here or contact Family Twist to book an engaging and educational scavenger hunt at the Louvre!***

– Outsmart the masses and beat the lines! There is more than 1 way to do that. Avoid the overcrowded Pyramid entry, and prefer the Porte des Lions. It is located at the southern wing and there are only very few people. "Porte des Lions" means door of the lions, and once you spot the 2 lion statues, you'll see the entry. The Porte des Lions is closed on Fridays. With pre-booked tickets, you can also go to another entry point located in the Passage Richelieu, at the north wing.

– Plan to visit the Louvre during late opening hours. If your kids are in their early teens, you might want to consider visiting the Louvre on a Wednesday and Friday evening, when the museum stays open later than usual, until 10PM. You'll be able to enjoy a more intimate and quiet museum.

– Plan to visit the Louvre on Monday and Thursday mornings from 9 to 11AM. Statistically, these are the best times to visit the Louvre with kids as it is not as crowded as it is at other times during the week. Your children will thank you if you don't bring them to an overcrowded museum.
-Take advantage of the free self-service lockers available underneath the Pyramid! Note that all items stored must be collected on the same day.




2. Visiting the Louvre

Don't:



– Think that you will be able to see it all. Unless you like running marathons, that won't be possible!
– Enter the museum without an idea of what you like, and what you are willing to put aside for a future visit to the Louvre.
– Limit yourself to the Mona Lisa, the Venus de Milo and the Winged Victory of Samothrace. These are all very crowded places and there are many other masterpieces to see!


Do:



– Prepare and focus. If you are planning to visit the Louvre museum without a guide, take a minute to determine which works are must-sees for you. There are 8 curatorial departments: Egyptian Antiquities; Near Eastern Antiquities; Greek, Etruscan and Roman Antiquities; Islamic Art; Sculpture; Decorative Arts; Paintings; Prints and Drawings. Choose one or two and enjoy them to the fullest!
– Take breaks and take your time to enjoy the museum. There's no rush, and your kids will prefer a pleasant stroll rather than a cultural race. The Cour Marly and Cour Puget are two magnificent and wide areas which are perfect for a break.
– Limit the time. Your children's attention spans probably will not last more than 2 hours, so it is better to plan a 2 hour visit and make the most of it.
– Entertain your children: there are many great book on the Louvre for children of all ages. You'll find books such as My Little Louvre or Wonders of the Louvre in the special bookstore for kids. The bookstore is called "les enfants du musée" and it is located in the Allée du Grand Louvre, in the shopping area under the museum (Carrousel du Louvre).




3. Guided visits

Don't:



– Book a classic visit to the Louvre. In the words of the children themselves, "a classic visit" is a synonym for a boring nightmare!
– Force them to use the audio-guide! Not every child is an art history buff; we certainly were not when we were their age!



Do:



– Use Family Twist and book a Treasure Hunt at the Louvre with them. This 2 hour activity is the best way to visit the Louvre when spending a holiday with your whole family in Paris. During this adapted kid-friendly treasure hunt, the professional and fully licensed private guide will not only take you to the museum's highlights, but also to other curiosities and masterpieces while entertaining your children. They will have to listen to the guide's comments and fun facts and solve all the riddles to take them step by step to the treasure! This is an activity that perfectly combines entertainment and education.




4. Restaurants and Facilities

Don't:

– Bring food or drinks from outside. Eating and drinking in areas where artwork is displayed is strictly forbidden. Still water is allowed (away rom the artworks), so bring a reusable water bottle!
-Go to the Louvre on an entirely empty stomach! You will most likely be in line for a while, and cafes inside the museum are scattered. Don't leave for the Louvre on an entirely empty stomach; no one wants to be hangry!



Do:

-Take a break at the café Mollien, the only restaurant that is really inside the museum. Located right next to the Mollien staircase, you'll be able to buy drinks and snacks there. Your children will want to get a refreshment after an hour or two inside the Louvre! Since drinks and food are not allowed inside the museum, you will have to stay in the café Mollien for the snack break.
-Enjoy one of the 14 cafés, restaurants and take-away outlets located throughout the Louvre, the Carrousel and Tuileries gardens. These offer either table service or take-away food. These are not located inside the museum, but they are perfect for a break after the visit!
-Strollers are accepted inside the Louvre and the Louvre itself is very stroller-friendly, but if you don't want to take it with you during the visit, you can always leave it at the visitor assistance area located beneath the Pyramid. You can also loan strollers, baby carriers, and other equipment at the visitor's assistance area (just make sure to bring valid photo ID!).
-Note that there are plenty of toilets in the Louvre! However, some are more popular and therefore have longer lines, so make sure to scope out some less-crowded ones!